Our Erasable Ceramic Bottle Stoppers, as seen as Home & Garden Television (HGTV), have made "the best little gift under $20" list in the media nationwide. Not only can these versatile stoppers be used to cork your olive oils, wines, vinegars, etc., they also are made of erasable ceramic making it easy to write and erase any message. These little gems were just featured in the Houston Chronical - Click here to read what Food Writer, Karen Haram had to say!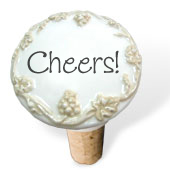 Vine Bottle Stopper (VB-6006)
Size: 2.5" diameter, Set of 3
$12.99
Order/Details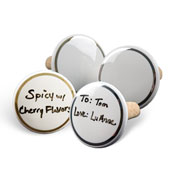 Platinum or Gold Bottle Stopper
3 of one Color
$12.99
Silver: BS-6002
Order/Details
Gold: BG-6003
Order/Details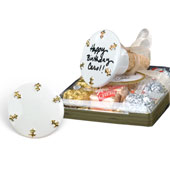 22K Gold Fleur-de-Lis Bottle Stopper (FDLB-6007)
Set of 3
$12.99
Order/Details
Identify wine, dates when wines were opened, or describe flavors of wines or olive oils
Use as place cards when placed on their sides (see below), then give away as party favors
Use as a personalized gift card by tying bottle stopper to wine bottle neck or to the top of a present (insert cork into knot of bow)
Disclaimer: Our bottle stoppers have a real cork base, therefore care must be taken when corking bottles so the cork does not break.
We do not exchange or accept returns on broken corks.