Do you package your items with a dry-erase marker?
Yes, most of our gift boxed items are packaged with a dry-erase marker and will indicate this in the description of the item. Items such as our bottle stoppers are not gift boxed and therefore do not include a dry-erase marker which is sold separately under the Accessories tab.
What happens if my dry-erase marker dries out?
Additional dry-erase markers can be purchased from our online store under the Accessories tab or at any office supply store. Our marker is a little different than most since it includes the eraser on the cap.
Note: It is a sure probability that your dry-erase marker will eventually dry out since when exposed to air over time the ink will evaporate. It is important to securely recap your dry-erase marker after each use to extend its normal shelf life of 6 months. Other markers, such as a Vis-à-vis or "wet" erase marker (available through office supply stores) will also work nicely on our product and just wipes away with water. The shelf life on these types of markers is around 24+ months if recapped properly after each use.
Are the PlaceTiles and MessageTiles self-supporting?
Yes, all of our PlaceTiles and MessageTiles are self-supported by a built-in ceramic easel-back, EXCEPT our LARGE Scroll (SAWT-6009), Fleur de Lis (FDLWT-6016), and Egg & Dart (ED-6013) 10" x 14" MessageTile message boards. These items are ready to hang or you can use the wrought iron easel sold in Accessories.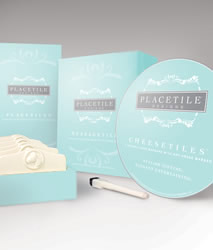 Are all of the products gift boxed?
All of our PlaceTile place cards, CheeseTiles, and MessageTiles come in our signature blue gift box and most along with a dry-erase marker. Our PlaceTile place cards are packaged in sets of 6, our CheeseTiles in sets of 4 and our MessageTiles packed as singles.
Do you have any PlaceTiles that come with a bud-vase?
Yes, we have 3 place card designs: the Beaded Rectangular (both in White and Café colors), Beaded Round (Timeless Collection), the Tropical Leaf (Nature Collection).
Can I send a gift card with my order?
Yes, you can. Please note your message in the special instructions section at check out.
Do you gift-wrap?
Currently, we do not gift wrap because most of our items come gift boxed which serves as wrapping. This saves you the cost of gift-wrapping and helps to conserve paper.
Do you do gift certificates?
Yes, we can provide a gift certificate. Please email or call us to inquire further.
Do you provide quantity discounts?
Yes, we do. Please email us at [email protected] or call us at 678-467-4776 for a specific quote. We will need to know the quantity you would like to order and the date you will need these by.
Do you accept returns or exchanges?
Yes, we do. Please see our policy under Customer Service or Terms & Conditions.
Where do you ship from?
Atlanta, GA USA
Do you ship internationally?
Yes, we do. If you are having trouble ordering online, please email or call us.
Do you sell wholesale?
Yes, we do. Please click on our wholesale customers link for more information or call/email us.
Are your products lead and cadmium free or food safe?
Yes, our products are routinely tested in the manufacturing process to insure they are lead and cadmium free and abide by FDA and Customs regulatory requirements. Items such as our CheeseTiles, which are intended to come in contact with food, are food safe.